---
This file appears in:
The Jockey Club Barbershop
---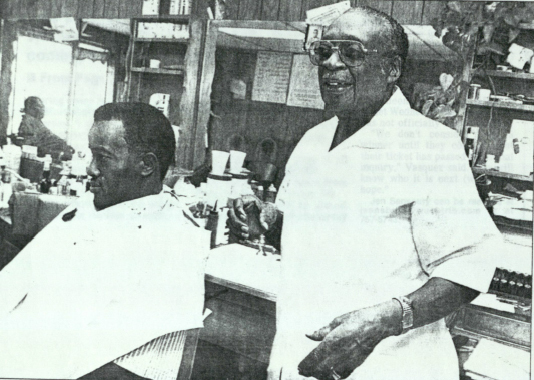 Longtime barber Cicero Martin gives a customer a haircut in 1999. In 1944, haircuts cost thirty-five cents. By 2001, prices had risen to eight dollars. Many generations visited the Jockey Club and took their sons and even grandsons for haircuts there. This service that cultivated relationships and community was a defining characteristic of the barbershop.
---
This file appears in:
The Jockey Club Barbershop
---
In the early part of the twentieth century, the area around Bridge Street on the west side of the Brazos River, known as the square, was home to various bars, restaurants, grocery stores, offices, insurance agencies, and other businesses that were…